Yorosen #067 [2009.01.13] - Pets : Dogs
Lol, notice how Gakisan scribbles stuffs on her notebook before Aika even start to teach. Gakisan always tells Eri to stop scribbling..but she herself..
Alright, and Reina asked Aika to not force herself to talk in such a high-pitched voice.
Talking about Reina,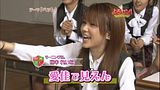 She should just let down her hair sometimes. It looks nice.
Reina shoo'd Aika off when Aika pulled down the cloth to reveal what was prepared on the board, lol.
Reina also commented on one of the dogs looking like a old woman.
Eri on the other hand looks like she wants to to sleep, lol. Just watch how compose Eri was (Or is she just not interested?) when the rest of the members get excited over the dogs' pictures.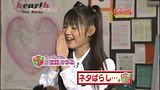 Sayu forgot that they were recording a show and blurt out things she shouldn't, hees. Just as Reina pointed out the husky picture and Aika taking it down to boast about how cute it is, Sayu stood up and said "Isn't that your dog!?" lol.
Gakisan looks good with her hair tied up, in fact she looks good in almost every hairstyle she had. Also, a perfect tsukkomi at Aika for breathing heavily as she end the class by Gakisan.
I love how Sensei Aika is teaching about pets so passionately.