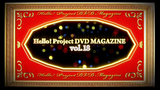 Well, not really translations, but I'll just summarise what they said and throw in a couple of comments. All screenshots in thumbnails, cos' I got a little too into snapping the screenshots and took more then I expected myself to.
GoRokkies part only. I'm sorry, but I don't have the time to watch the full DVD now because I still have loads of school assignments waiting for me on my desk.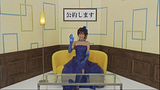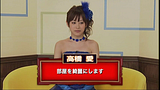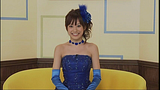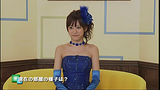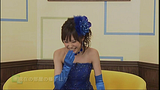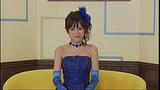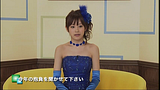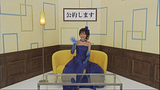 Aichan promises to tidy up her room. Aichan likes doing the laundry but it seems like she's pretty bad at cleaning up . She admits that her room isn't really that neat for now. It isn't that exaggerated to the extent that there's no place for you to place your feet, its just that Aichan will be embarrassed if someone saw her room like this.
Who knows. If Aichan continues with the messiness, she might just become a Kamei Eri Version 2, like the way Eri becoming Takahashi Ai Version 2 when she screams.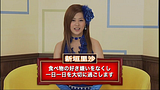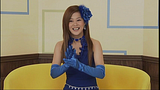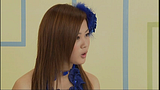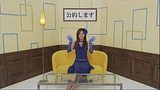 Gakisan promises to stop being so picky over food and to value each and everyday of her life. Gakisan says that there's quite a variety of food which she don't eat, its not really healthy for her to avoid those food, so she's going to try and eat them.
Her 「
Yoroshiku ne
」 at the end of her talk reminded me of the Dohhh! UP video whereby she was together with Eri.
And now! And now! And now for Eririn!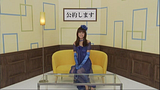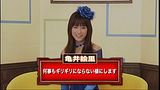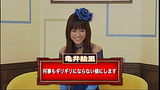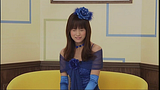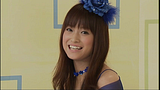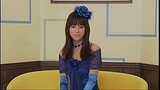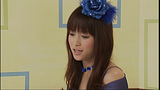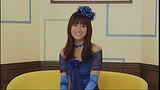 Eri promises to stop doing things only at the very last minute. Whenever she is given some survey forms to complete or to draw on those photocards we usually see that will be put on sale in H!P shops, she'll only do it at the last minute or when someone bugs her to do it. As a 20 year old girl, she wants to stop doing that. Its also to set a good example to the juniors around her. Also, she wants to be able to turn up 10 minutes before the time she's suppose to instead of turning up just a minute before or just on time.
Now that she's 20, she'll like to show the sexy adult side of her (Well, she used the word "Erotic" though, heh). Also, she wants to be smarter and continue to improve herself. She'll try her best and asks the fans for their support.
Heh, you know something? There's a saying (Nah, there isn't) "Promises are made to be broken". Eri makes empty promises on GAKI*KAME radioshows very often, so I don't know how true this will be, but I definitely prefer this pokepokepoo side of her rather then a responsible 20 year old adult. Anyway, is she sure that she's usually 1 minute before the meeting time or on time? From what I've been hearing on Konusapi*, it seems like Eri is usually late more then 15 minutes.
*Konusapi is a radio program hosted by Eri's very good friend, Sayu.
Lets move on to Sayu. Here's something that I just kept staring at for half a minute
Just where were her hands at?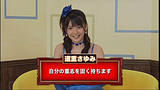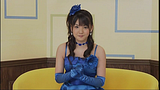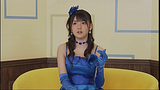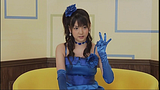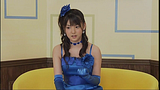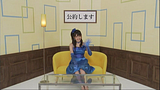 Basically she wants to be more determined when doing things. Sayu talks about turning 20 in 2009 and how she has to be more responsible.
Sayu is really excited about turning 20 in 2009. She've been talking about it in Konusapi too. She can just go on ranting about how much she wants to try out alcohol and making me even more curious of our little turtle drinks too. I seriously can't picture Eri drinking...somehow.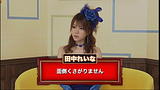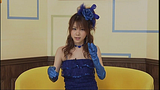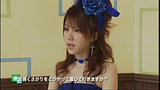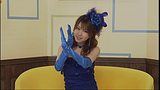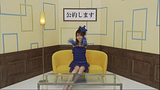 Reina promises to stop complaining about every single thing being troublesome. Apparently, Reina complains a lot about things being troublesome even though some of them are just what we do daily. She admits that "
Its so troublesome!
" (The phrase itself) had became one of her most used phrase.
I watched Mikitty's part too, and she's
still
looking for a hobby, even after 2 years, lol.
----------------------
Elder club graduated from Hello! Project last night as we know (I thought it should be held on 3/31?) but anyway, although I'm not a big fan of the OG members, I do wish them all the best they do in the future. I do hope to see people like Ayaya, Mikitty, Makoto and more to be performing on stage again.
Elder Club の皆さん、
卒業おめでとうございます

*Goes off to listen to the fan recordings* I read on 2ch Gakisan was talking about Eri in one of the MCs.