Yorosen #080 [2009.01.30]
Last episode of Morning Musume's week.
(I forgot to resize again x.x)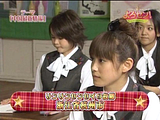 Aika's expression.
Linlin's sudden "No no no" reminded me of Aichan's "No no no" impersonation.
Aichan apologising. Heh, I can't help it but to love Aichan. She's really humble, polite and modest
♥
Eri stopped scribbling immediately and capped her pen back the moment she heard "food".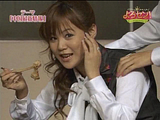 Eri shaking and pushing Mama Gakisan.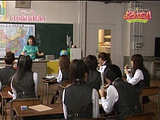 Koharu x Junjun. I've been paying a lot more attention to this pair ever since Resonant Live MCs. They make a pretty good combination actually.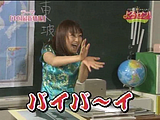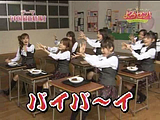 The best way to say "Byebye".
Koharu and Junjun goofing around behind Mano and Aichan laughing at them :D
Next month will be C-ute's turn, starting with Kanna, then Chisato, then Sayu. The following week after Sayu's will be Berryz Koubou and it'll be Sensei Junjun.
(Source)