Watching Eri dance is one of the best thing I've ever done in my life.
That pleasant smile carved on her face as she dances makes me melt (Well, there's a refrigeeeeta in my house to freeze me back -> Lame, I just wanted to add in the refrigeeeeta)
Wowow Collabo Labo - TRF x Morning Musume [2009.01.27]
Filled with AiEri and SayuEri moments. I started off with that impression of "A stupid show featuring Aichan" but seriously, its not just a show feat. Aichan. We got to see what exactly was happening backstage. After watching it, my conclusion will be "Think twice before we make negative comments like "God damn, her dancing/singing sucks.", cos' its not easy for them." The show strengthened my love for Morning Musume, definitely.
The girls started off very nervous, obviously shy as its the first time they are collaborating with TRF. I'm going to just post up thumbnails! (: Cause I took nearly 40 screenshots and I don't want to lag the page.
Nothing much happened in the front part since its just their dance practice, so I'll start off straight from
Resonant Blue performance
.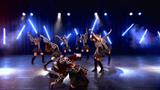 Just look at Eri bend. And compare her to the rest of the members, lol.
The main point about this screenshot isn't Junjun actually. Look at the background. Sayu with her big mirror. Not really though, if we compare it to
that
one she had in 2003.
Sam x Morning Musume Collaboration - Overnight sensation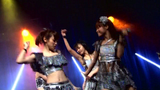 Its AiEri!
♥
They were "thrusting" at one another :P Oops, sorry.
Yu-ki x Takahashi Ai Collaboration - Smooth Operator
Aichan was really nervous, but apparently, Yuuki-san didn't really see the nervousness in Aichan.
A really great collaboration. Aichan singing in English was simply awesome, other then her "s" pronounciations. She added in "s" when its not necessary and she didn't sing the "s" when its necessary, lol. But who cares. She did her best.
Morning Musume - Naichau Kamo
Its really good to see Sayu talking about how happy she is now that she gets to sing.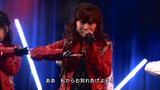 I've never chose between Aichan and Eri before for who the best dancer is. But one thing I know is that Eri's expression for Naichau Kamo is definitely better and more suitable for the song then Aichan's (Its STILL my opinion though, no offence to Aichan fans). Perhaps Aichan was too busy singing to even realise she don't look like Mariko at all :P
And for the best part of the song is none other then..
Eri's solo line!
♥

Sayu too, had really good expressions. In fact, SayuEri are probably the best person to bring out the feelings of Mariko. Both of them are just so..aho? Is that the right word? That they have the image of Mariko in me. But I really hope they'll never become Mariko, they deserve the best boyfriend rather then Mariko's boyfriend.
(Lol, I can't help it but to keep thinking of Mariko after reading MM's B.L.T scan)
AiEri moment :D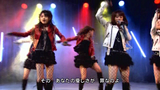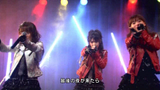 My Top 3s
♥
Now for Christmas celebration! (Man, they even have to have dance lessons during christmas ._.)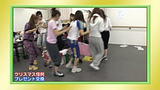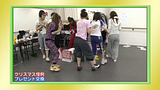 The girls walk in round, probably something like musical chairs? Then they'll snatch the presents or something? I've got no idea too. They didn't show how they chose the presents other then walking in a circle.
Aichan returning Eri her tee-shirt which apparently Eri lent to Aichan (AiEri moment!)
And also, Eri's Christmas present was from Aichan.
DJ Koo x Morning Musume collaboration - Love Revolution 21
I'm in an AiEri craze now.
Sayu. I just can't seem to get my eyes off her. I rewatched the perf just to watch her every single movement.
SayuEri
♥
One reason for why I love LR21 is simply because of the AiEri - SayuEri moments. Also, Eri stood in the centre for a period of time, which is considered a rare moment x:
Let me do those calls.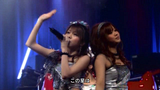 "REINA!"
"GAKISAN!" (Did anyone notice Gakisan's change in terms of vocal for this line?)
End, with Rokkies :D (Aika and Linlin were beside them actually.)
Not a big fan of the Love Revolution 21 remix. The fast forwarding only made the dance movements look..weird. I prefer the original version, especially the one performed on Music Fair 21.
Well, I won't complain about anything of course, since its already considered lucky for all of us to be able to enjoy 40 over minutes of Morning Musume. (Now that there's no more Haromoni@, no GAKI*KAME, no Konusapi for a month)
But to anyone who have yet to watch it, do check it out! (: