Morning Musume's 10th Album, 「Platinum 9 DISC」will be released on 3/18.
(?)
(2ch calls it Morning Musume's 9th Album though)
Here are some of the songs 2ch wotas predicted to be included in the Album.
• Guru Guru JUMP!
• Watashi no Miryoku ni Kidukanai Donkan na Hito
• Take off is now!
• Ame no Furanai Hoshi dewa Aisenai darou?
• Mikan
• Resonant Blue
• Naichau Kamo
The above songs are just predictions of wotas. I'm not responsible for any impact caused mentally or physically.
There's no official confirmation, but I'm expecting those songs too since they were sang in Resonant Live and yet not on any albums.
I'll update about it again once its confirmed (:
(Source)
-----------------
Yokohama Arena 20th Anniversary
Morning Musume's message
(Link)
Click on the
「動画配信中」
to view the video
According to them, the first time Morning Musume stood on Yokohama Arena was during Morning Coffee's event.
Look at Sayu push Eri :P
-----------------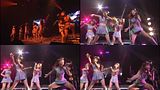 Heh, from Resonant Live during YAH! Ashita
I stole it from Japanese uploaders, lol.
Latest set 1/27
No one knows she's 20 if we keep our mouths shut.
The one on the extreme right is just too adorable
♥