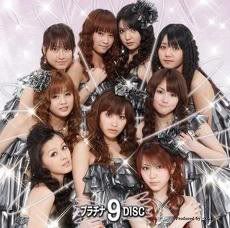 http://tvstation.jp/eye/pc/news/756.html
Covers for Morning Musume's 9th Album, Platinum 9 DISC.
Linlin's hair in the first cover reminds me of the instant noodles I had the other day. Some of the girls don't look good with curls.
I'm loving those silvery costumes and the glimmering effect. It made the covers look elegant and all the girls look adult-ish.
Second cover > First cover
Simply because most of the girls look better in the second one and Eri's smile is just too sweet. SayuEri caught my attention, despite the fact that they are at the back. They are looking hot there. Coming to the members in front, like hey, that's the old school Aika! The long hair Mitsui Aika (Which are obviously extensions) Aika's recent new look is great, she looks gorgeous in the covers, just that her eyebrows look pretty thick to me. When I looked at the picture from far, Aichan's expression stands out from the rest of the members. Gees, did they told her things like "Don't smile"? Well, the girls portrayed a different look with those curls on them. I was pretty amazed when I looked at the members one by one, except for Reina, which wasn't surprising. Every time a new cover is released, the thought of "Its the same old Reina again" just strikes me. Not that she's not looking good, but I prefer something fresh, like Koharu with curls, even though we can't really see them.
Conclusion : SayuEri look hot :D
I'm tempted to get both the albums.
Morning Musume 9th Album, Platinum 9 DISC 3/18
Get your copy now!
Normal Edition
(CDJapan)
(HMV)
(Yesasia)
Limited Edition
(CDJapan)
(HMV)
(Yesasia)
(Click her for the album's tracklist)